Do your kids need a confidence boost? Play this uplifting, empowering music for them! Listen here on Spotify or make your own using the songs below!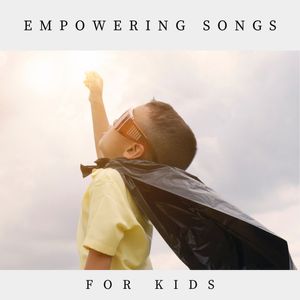 1. Big Life: Lindsay Muller
2. I'm Me!: Charlie Hope
3. You Are Amazing: Lindsay Muller (get a FREE download of this song here!)
4. We Are Enough: Emily Arrow
5. I Can Do Things: Stephanie Leavell
6. Perfectly Imperfect: Frecklehead
7. We Are One: Renee & Jeremy
8. Love Shining Inside Me: Charlie Hope
9. Don't Hide Your Magic: Emily Arrow
10. Try: Big Block Singsong
11. Try Everything: Shakira
12. I Love Me: Meghan Trainor
13. Humility: Fred Penner
14. Somebody Believes: Fred Penner
15. You Can Be You: Kath Bee
16. Shine Your Light: Asa
17. Be Yourself: The Singing Lizard
18. I'd Rather Be Me: Snatam Kaur
19. Individuality: Kath Bee, Sian Kerr
20. Light It Up: Caspar Babypants
21. If You Want to Sing Out: Frances England
22. Abracadabra: Brotha James
23. Gotta Be Me: Secret Agent 23 Skidoo
24. You Can Do This Hard Thing: Carrie Newcomer
25: Don't Give Up On Me: Andy Grammer
26. Walk Tall: Ziggy Marley
27. Let Your Voice Be Heard: Giullian Yao Gioiello
28: Take a Leap: David Hyde Pierce, Julie Andrews
What songs would you add to the list? Tell me in the comments!
music for kids, music for children, songs for kids, songs for children, high vibe songs, high vibe songs for kids