Bio
Originally from Ontario, Canada, Lindsay Müller is a singer songwriter and music educator.
Influenced by India Arie, Raffi, Mr. Rogers, and Norah Jones, her musical style is joyful, gentle, and from the heart.
Lindsay creates positive songs for kids that encourage kindness, gratitude, mindfulness, self love, and love for the planet.
She lives with her family in Florianópolis, Brazil.
Follow Lindsay on Facebook and Instagram, and get a FREE SONG when you join her mailing list to keep in the loop about announcements and future projects!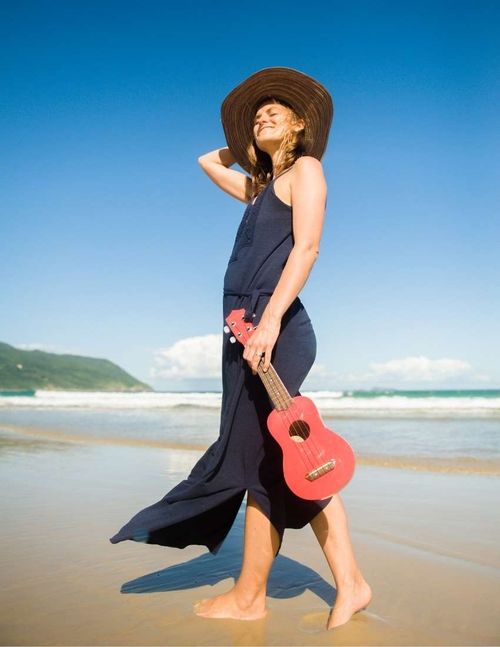 "

We play the 'You Are Amazing' song every morning while I make breakfast. It sets our day off on the right foot. I'm grateful for beautiful, meaningful music that my kiddos and I can enjoy together."
— Laura Martin
"

Lindsay's voice, such a sweet sound, like an angel, has uplifted my soul too many times to count. I fell quickly in love with this beautiful girl and her fun and creative family, and I love to follow their musical journey. Lindsay's mission with her music is to spread more love and light into the world, and to build strong, confident and compassionate children. I love her, and her message to the world, in the form of her lighthearted, sweet songs that fill my heart with sunshine."
— Helene M. Knutsen Fosso
"

I'm a huge fan of Lindsay's music. I love how she's on a mission to create positive change in the world through her beautiful lyrics. I'm particularly fond of her 1 minute meditation song "Just Be" - it's the perfect song for when I'm feeling a bit overwhelmed and need to relax and reconnect."
— Una Kiernan
"

When I first heard Lindsay's voice echo along while she strummed away elegantly to the sound on her guitar, my jaw dropped. Her music is incredibly unique, especially in a world that often produces music about the sad facts of life. Her lyrics are intentional, uplifting, and truly angelic. The world needs more musicians like Lindsay. This I am certain of."
— Bishop Reid
"

Your songs have genuinely had a very noticeable impact on my son's self-esteem and the way he views himself and other people. It's amazing. We play the whole album before school to start the day off with a happy productive mindset."
— Kristie Hope