Online music lessons for kids: is your child showing interest in music, but you're not sure how to lead them? Read on to find out how you can nurture their talent!
Guitar lessons vs. Ukulele Lessons
Guitar and ukulele are both popular options for a child who wants to learn an instrument. Which one is right for your child? 
I have taught both guitar and ukulele to children. My recommendation is for kids to start by learning the ukulele.
Here's why you should choose ukulele lessons for kids:
Ukuleles are inexpensive

They are small and portable

They are easy for kids to hold

They have 4 strings, making it easier to play (guitars have 6 strings)

Ukuleles use nylon strings which are softer on the fingers. Many guitars use steel strings which can hurt little fingers

The skills learned with ukulele can be applied to guitar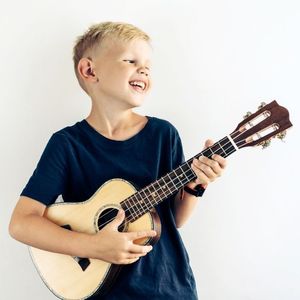 Are online music lessons right for my child?
Did you take music lessons as a child? Let me guess - they were boring, and you weren't encouraged to explore and follow your own interests? Even if that wasn't your experience, it's a story I've heard many times. It was my story, too! I took classical piano and guitar lessons. My teachers never encouraged me to write songs or improvise. They never even asked me what kind of songs I wanted to play. They followed a book. It was not inspiring and I quit both lessons, feeling discouraged.
The nice thing about online music lessons is that you have SO many teachers to choose from. Teachers that don't just "follow the book". There are teachers that use a more child-led learning approach. Children are very good at learning. But they often want to learn their own way, with someone supporting and encouraging them. 
Websites like Outschool offer group lessons from a variety of teachers. Check out their intro videos and see which one your child resonates with.
If you are looking for a private teacher, I can help with that!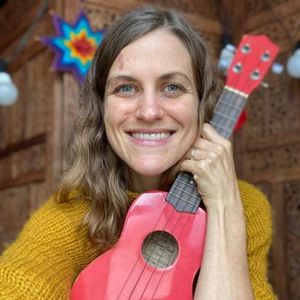 My name is Lindsay Müller and I've worked with children and music for over 20 years. My goal is to make music FUN and INTERESTING for my students! I plan my lessons based on what my student wants to learn.  Lessons are child led, heart led, and relationship based.
What I can teach in online music lessons for kids:
Beginner ukulele 

Beginner guitar 

Beginner piano 

Songwriting 

How to read music 

How to play chords on ukulele, guitar or piano 

How to read tab on ukulele or guitar 

Body percussion 

International songs 
My experience: 
Music director at summer camps 

Private music instructor 

Teaching music at elementary schools 

A Bachelor of Arts with a minor in music from Canada's top university 

Teaching my own children 
Testimonial: 
"Lindsay is kind, patient, observant, and supportive. She nurtures the student's love of music. Her teaching style is fun and student-centred. She connects to the child and makes it easy to explore. My daughter looks forward to every lesson. I highly recommend her."
-Anita S
I charge $200 USD per month (4 lessons) for online ukulele lessons.
If your child wants to take ukulele lessons with me, let's hop on a FREE 20 minute video call. This way we can meet, ask questions and see if we are a good fit for each other! Click here to send me a message!
Is my child too young for online music lessons? 
I recommend online ukulele lessons for ages 6 and up. If your child is younger than 6 and is showing interest in music, I also offer song and story sessions. These are 20 minute online video calls where we sing fun songs and read a story together! For more information, click here.
Can adults take lessons too?
Yes! I can teach ukulele to adults as well as kids. I can also teach adults and kids together, if you'd like to make it into a family thing! Click here for more information and to sign up!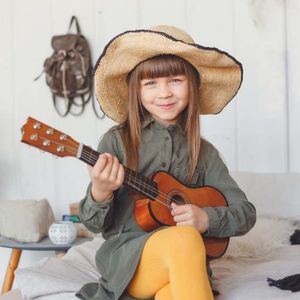 Not ready for online ukulele lessons for kids?
I create FREE ukulele tutorials on my YouTube channel. Check them out!